The Estate Watch website has closed!
This is an archived snapshot of the Estate Watch site (www.estatewatch.london) as saved on 31st March 2023.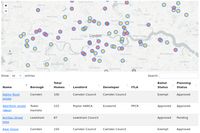 ¡UNDER THREAT!
Over 100 council and housing association estates across London are under threat of demolition and dozens have already been raised to rubble.
WHO WE ARE
We are a network of tenants and residents' groups and individuals whose estates are at risk of demolition or are in the process of demolition. Supported by London Tenants Federation and Just Space, we provide help and guidance to residents living on estates earmarked for demolition. We support residents engaging in discussion to make their own decisions about what might work best on their estates. We have created a number of factsheets, handouts and guides and also hold quarterly meetings for residents where we exchange experiences and advice. Read more about us and how to get involved here.